AND they're off and racing!
The horse racing industry is synonymous with online betting and if you're looking to get your bets on, there is no easier way.
Just log on to your computer or internet enabled device, point, click and you're done.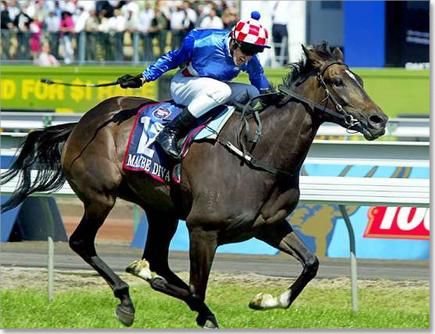 Well, there are a couple of other steps here and there that you need to follow, but if you think your horse is going to be king or queen of the turf, then going online to put your money where your mouth is is certainly the way to do it.
Whether it's the country's pinnacle race, the Melbourne Cup, a Friday night at Cranbourne, Australia, or pulling the late shift at Turffontein in South Africa, you'll find an online bookmaker running a market on them all.
Your first step is to find a bookmaker to sign up to.
We've sifted through the chaff and found the cherries for you and our recommended bookmakers are the ones that we think you should bet with.
They're the most reputable bookies in the business, their websites are the most functional, they have smart phone and tablet apps that put the odds at your finger tips and their markets are the most well rounded on the internet.
Best online bookmakers for horse racing
– William Hill: Everyone knows the name William Hill when it comes to online gambling. And if you're after the best odds on horse racing, you can't go wrong. Get plenty of bonuses out of the UK based bookie and find your favourite horse whenever it's running.
– Bovada: Betters paradise more like it. If it's horse racing you love, then Bovada is the online bookmaker for you. With so many bet types and plenty of bonuses, there genuinely is none better for local and international race meets.
How to bet on horse racing
Now that you've got that all sorted out, you need to know exactly how to bet, right?
Again, we have you covered with some of the most popular betting options in the horse racing industry.
Win bet: This is when you back a horse to finish ahead of the rest of the field.
Place bet: When a punter places money a horse to finish in the top three places.
Win/Place: Hedge your bets, back a horse to finish first, but also cover yourself by backing it to finish top three.
Trifecta: This is when you select the first three horses across the line. There are plenty of different variations of trifectas, including boxed trifectas, which allows you to select three or more horses, of which three must finish in the top three for you to win.
Quadrella: A quadrella, or quaddie, requires the punter to back four consecutive winners in pre-nominated races, which have usually been set by the bookie. They are hard to nail, but when you do, they generally reward with big dividends.
Horse racing betting tips
Whether you're a seasoned campaigner who knows every horse's bloodline, or a mug punter who just likes to have a parma, pot and a punt at the local, here are a few helpful tips to steer you i the right direction of a winner.
– Bet within your means: This goes without saying. Gambling addiction ruins lives. Make sure all your obligations are met, your bills are paid and your family is looked after, before you bet. Use disposable income, not the money that's meant to pay for food and bills.
– Open multiple betting accounts: Make sure you get the best odds by having multiple betting accounts with reputable online bookmakers. The recommended bookies we've mentioned are a good start. There's nothing worse than backing a winner with one bookmaker at $5 and realising another bookmaker was offering 10s. You also want the enjoyment of a free bet and the best bonuses available. Each bookie usually offers sign up bonuses that give you free punting dollars, as well as promotions and other events, like enhanced odds. Make sure you take advantage.
– Know your stuff: We've already touched on this, but it really is important to know your stuff in each race if you're going to place a bet. Know your horse's form. Know who is riding it. Know what its bloodstock is like. Know what the form of the other horses in the race is like. All these things are factors that could be your horse's down fall, or its saving grace.
– Go with the form – not just your horse: We said know your jockey – if he's flying, he's worth considering. But know your trainer too. The Gai Waterhouse types are always in the money, but find out how the trainers horses have been going. Know how they perform at the track. If you're going to hit up a provincial track, keep an eye on the local trainers. They might not be big names, but they know their stuff and know how to win at their track.
– Follow the money: There are enough punters out there who know their stuff. Use your online bookmakers market movement tool to follow the money. This will often be listed on the race menu where you make your selection. If big money comes for a selection, chances are something is up and it's worth considering.
– Listen to the whispers, but don't always believe what you hear: Everyone's an expert, right? Some people genuinely know what they're talking about, while others live in a fantasy world and believe their own lies. Make educated decisions on the information you hear. If a bloke at the pub tells you he's on a good thing after downing 20 pots, that good thing might turn out to be a bad thing. Similarly, even the experts get it wrong. Trainers will always pump up their horse's tyres – after all, they have owners to please. There's 20 horses in a race and every trainer thinks their's is going to win it. Have your bull dust filter on high alert.
Biggest horse racing meets around the world
Here's a look at some of the biggest horse racing events on the calendar, where punters plunge record amounts almost every year and dreams can be made and shattered, all in a minute and half.
– Melbourne Spring Racing Carnival and Melbourne Cup: The biggest event on the Australian racing calendar is the Race That Stops a Nation, the Melbourne Cup. It is run at Flemington on the first Tuesday in November each year and attracts a mountain of bets from the most seasoned punter to mums and dads who would not know a race track from a road. It's the best day on the racing calendar and the most fun. It's a public holiday in Victoria too, giving everyone a chance to soak in the atmosphere. The cup is part of the broader Spring Racing Carnival which features a pile of group one races and plenty of features, meaning monster pools and plenty of money to be made. While Flemington has the Melbourne Cup, Caulfield has the Caulfield Cup as its feature, with another monster meet for the Caulfield Guineas. The Cox Plate is held at Moonee Valley, but Flemington is the place to be for most of the carnival, with Victoria Derby, VRC Oaks and the Emirates Stakes.
– Queensland Winter Carnival: It's cold and it's wet all over Australia. But not in Queensland. Punters looking for a good bet can get on the multiple group ones of the Queensland Winter Carnival from the comfort of their arm chairs, avoiding the doom and gloom outside. The Stradbroke is the big race, but there is also the Golden Slipper in the lead up and several other features.
– Royal Ascot: Britain, Britain, Britain. This is one of the biggest race carnivals on the international calendar and runs throughout June for four days. The best horses from Australia often make the gruelling trip, in hopes of winning something special, like the Ascot Gold Cup – one of the most lucrative races in the world.
– Dubai World Cup: Keeping with the international theme, if it's in Dubai, you know there's going to be money to splurge. The races are by invitation only and feature monstrous winners cheques. The best horses and jockeys in the world feature at the event, making the punting difficult, but rewarding, with some of the classiest long shots available.